FAQs
Frequently Asked Printing Questions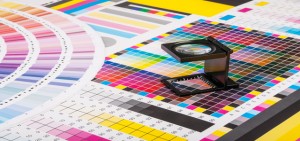 We strive to make your printing experience as easy as possible. Sometimes, our customers are overwhelmed by all of the details associated with the printing process. Ultra-Color takes the confusion and guesswork out of your print buying by answering these frequently asked printing questions.
Can I send files in Microsoft Word?
Programs like Word and Excel may allow you to lay out a flyer or brochure that looks professional, but these programs are not design applications. If you must send Word files, we will try to work with them, but we cannot guarantee the results. If possible, saving the page as a PDF is the best option. Our designers can also use your Word or Excel files to translate the information into a professionally designed piece.
What does "4/4" mean?
4/4 (four over four) means four-color printing on both sides. Almost all color printing is accomplished by using percentages of the four printing colors: cyan, magenta, yellow, and black (CMYK). A piece printed in four colors could include photographs and graphics.
Do you do digital printing?
Yes, we do. Digital printing is a great alternative for small jobs that require a low quantity. We can produce almost anything digitally, including banners, brochures, flyers, postcards, posters, and wide format pieces.
What does "bleed" mean?
A bleed is an area where an image or color goes right to the edge of the piece. Any area that bleeds MUST extend at least 1/8 of an inch beyond the page edge.